History of the Geneva Reformed Seminary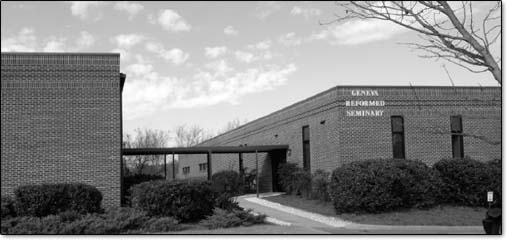 The Presbytery of Ulster operates the Whitefield College of the Bible and Theological Hall for the training of missionaries and ministers. With the establishing of the Free Presbyterian Church in Canada and the United States, there was a need to train prospective ministers for the work of pioneering Free Presbyterian congregations in North America. In order to address that need, the presbytery established a branch of its theological seminary in Greenville in 1982 for the training of young men from the United States who felt called to the Free Presbyterian ministry. Dr. Alan Cairns, the first minister of the Greenville church, had for years served as the professor of Systematic Theology in Northern Ireland, and he assumed the lion's share of the instruction in the North American extension of the Theological Hall. Various professors from Ulster taught on an adjunct basis. After some years, Dr. Mark Allison assumed the position of academic dean and taught various classes along with select and qualified ministers from the North American churches who taught on a adjunct basis. During this entire period, training was limited to men preparing to minister in the Free Presbyterian Church.
In 2000 the Presbytery Com-mission appointed Dr. Michael Barrett as the vice president for academic affairs and then as president of the institution in 2001. At the same time, the presbytery took the decision to matriculate students from outside the denomination. Once the doors were open to men outside the denomination, it was necessary to eliminate some of the confusion resulting from the name of the institution carried over from Northern Ireland, the Whitefield College of the Bible. In 2002 the presbytery authorized the change of name to Geneva Reformed Seminary (GRS). GRS continues to exist principally for the training of men called by God to the ministry of the Free Presbyterian Church, but those not called to this specific ministry are admitted with the understanding that GRS is a denominational institution that will operate without compromise within its denominational distinctives.
Since GRS now desires to minister to those outside the denomination, the administration felt it important to be accountable to an outside educational agency to establish credibility to those who are not a part of the Free Presbyterian Church. In 2003 the Presbytery authorized GRS to apply for membership in the Association of Reformed Theological Seminaries (ARTS). The policies of ARTS provide the kind of academic accountability desired without infringing on the seminary's primary accountability to presbytery in regard to standards of both faith and practice. In November of 2004 GRS was granted provisional accreditation in ARTS and earned full membership in the organization in November 2005. GRS also enjoys fellowship with institutions in the American Association of Christian Colleges and Seminaries (AACCS), a separatist organization.